Neurotechnology Ventures
[Class Content] [Fall 2014] [Fall 2013] [Fall 2012] [Fall 2011] [Fall 2009] [Fall 2008] [Spring 2007]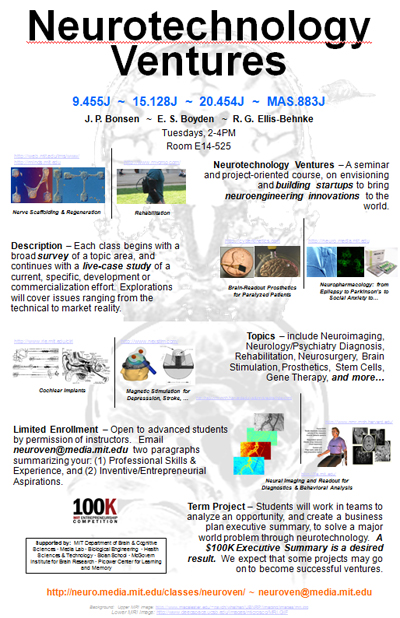 MIT Course Numbers: 9.455 ~ 15.128 ~ 20.454 ~ MAS.883
Instructors: J. Bonsen ~ E.S. Boyden ~ R.G. Ellis-Behnke
Units: H-level ~ 2-0-7 Units
Time: Tuesdays, 2-4pm
Place: E14-525
Description
Neurotechnology Ventures is a seminar and project-oriented course on the challenges of envisioning, planning, and building startups to bring neuroengineering innovations to the world. A typical 2-hour class begins with either a survey of a broad topic area, or a live-case study of a current, specific, development or commercialization effort in that area, followed by a class exercise or resource learning event. Explorations will cover a broad array of issues ranging from the deeply technical, to the analysis of market realities. Topics Include: Neuroimaging, Neurology/Psychiatry Diagnosis, Rehabilitation, Neurosurgery, Neuropharmacology, Brain Stimulation, Prosthetics, Sensory and Motor Augmentation, Regenerative Neuromedicine, and more.

Limited Enrollment - Email neuroven@media.mit.edu two paragraphs summarizing your: (1) Professional Skills & Experience, and (2) Inventive/Entrepreneurial Aspirations, on or before first class day.

Student Project - Students will work in teams to analyze an opportunity and create an elevator pitch, and a business plan executive summary and final presentation, aimed at commercially meeting a need through neurotechnology. The project will develop throughout the term, with multiple reviews, and culminating in a final presentation. We expect that some projects may go on to become successful ventures.

Schedule
---

---

Tues., Sept. 14
Overview of the state of neurotechnology.

Overview of the class, case studies and team projects.

Introductions.

Instructor 1-minute elevator pitches.


---

---

Tues., Sept. 21
GUEST PANEL: Clinicians. The big needs in neurology, psychiatry, and neurosurgery. Emad Eskandar, Alvaro Pascual-Leone, and Carl Marci.


---

---

Tues., Sept. 28
1-minute elevator pitches by class members.


---

---

Tues., Oct. 5
GUEST SPEAKER: Tim Marzullo, Backyard Brains.


---

---

Tues., Oct. 12
GUEST PANEL: Leading venture capitalists in the life sciences and neurotechnology. Katherine Moorgat, MDV; Mikhail Shapiro, Third Rock; Andrew Miller, Puretech.


---

---

Tues., Oct. 19
GUEST SPEAKER: Shai Gozani, Neurometrix.


---

---

Tues., Oct. 26
GUEST SPEAKER: Dan DiLorenzo, Neurosurgery Resident, UTMB; Founder, NeuroVista and Barinetics.
TITLE: NeuroVentures: A war story behind the founding of NeuroVista (f.k.a. BioNeuronics) - Conceptualization to commercialization of a novel technology to treat Epilepsy


---

---

Tues., Nov. 2
GUEST SPEAKER: Frank Reynolds, In Vivo Therapeutics


---

---

Tues., Nov. 9
Midterm presentations.


---

---

Tues., Nov. 16
2-page executive summary, first draft due.


---

---

Thurs., Nov. 18 (note special day/time, Thursday 2-3PM)
GUEST SPEAKER: Donna Dubinsky, Numenta.


---

---

Tues., Nov. 23
GUEST SPEAKER: TBD


---

---

Tues., Nov. 30
GUEST SPEAKER: Greg Hyver, BCINet.


---

---

Tues., Dec. 7
Final presentations by each team. Final 2-page executive summaries due today too.


---

---